UNIVERSITY PLACE, Wash. -- Maybe there was a time you figured the artist formerly known as Tiger Woods had earned his own demise, that he had this coming to him all along. Maybe you thought he deserved to suffer on the golf course after the scandal, and after he spent his dynastic years wearing that invisible Do Not Disturb sign while keeping you, the sports fan, as far away as possible on the less fortunate side of the ropes.
Maybe you were a blind believer in karma, entrenched enough in the what-goes-around, comes-around crowd to enjoy watching Woods devolve into the worst kind of a muni-course hacker.
But even the most passionate haters can't find satisfaction in this anymore. Like him or not, Tiger Woods stands among the greatest athletes this country has ever produced. Who really wants to see him keep getting humiliated like he was Thursday at Chambers Bay, where the tattered remains of his indomitable aura were pancaked by the freight trains rumbling across the banks of Puget Sound?
Woods shot 10-over 80 in his opening round of the U.S. Open, his first tournament since posting his worst score as a pro, 85, at Jack Nicklaus' Memorial Tournament, a score right out of the B-flight semifinals at your local club. Woods has been trying and failing to nail down his 15th major title for seven years, and no, he's no longer worried about catching Nicklaus at 18.
He's now worried about catching 15-year-old Cole Hammer, who just beat him at Chambers Bay by 3 strokes. "But the bright side," Woods joked, "is at least I kicked Rickie's butt today."
Rickie Fowler came in with an 81, and the third member of their group, Louis Oosthuizen, matched the 77 shot earlier by Hammer, who cites Woods' last major title -- his 2008 playoff win over Rocco Mediate at Torrey Pines -- as his very first golf memory. (Hey, at least someone around here remembers Tiger winning a major.)
But neither Fowler nor Oosthuizen is one of the two greatest golfers of all time. That distinction belongs to Woods, who turned the 15th anniversary of his historic 15-shot romp at Pebble Beach into one of the most embarrassing days of his career.
Woods spent his Thursday doing a zombie-like stagger, wincing over missed putts and muttering to himself over bounces gone bad. A club flew out of his hands and over his shoulder on the eighth hole, appearing to travel the same distance as his ball in the opposite direction. Upon retrieving his iron, Woods studied it as if it were an artifact unearthed from the beneath the gravel and sand that were swallowing him whole. And since everyone is describing the linksy dunes of Chambers Bay as something of a moonscape, it's worth noting that Woods looked less comfortable hitting the ball than Apollo 14 astronaut Alan Shepard did while hitting his 6-irons on the real moon.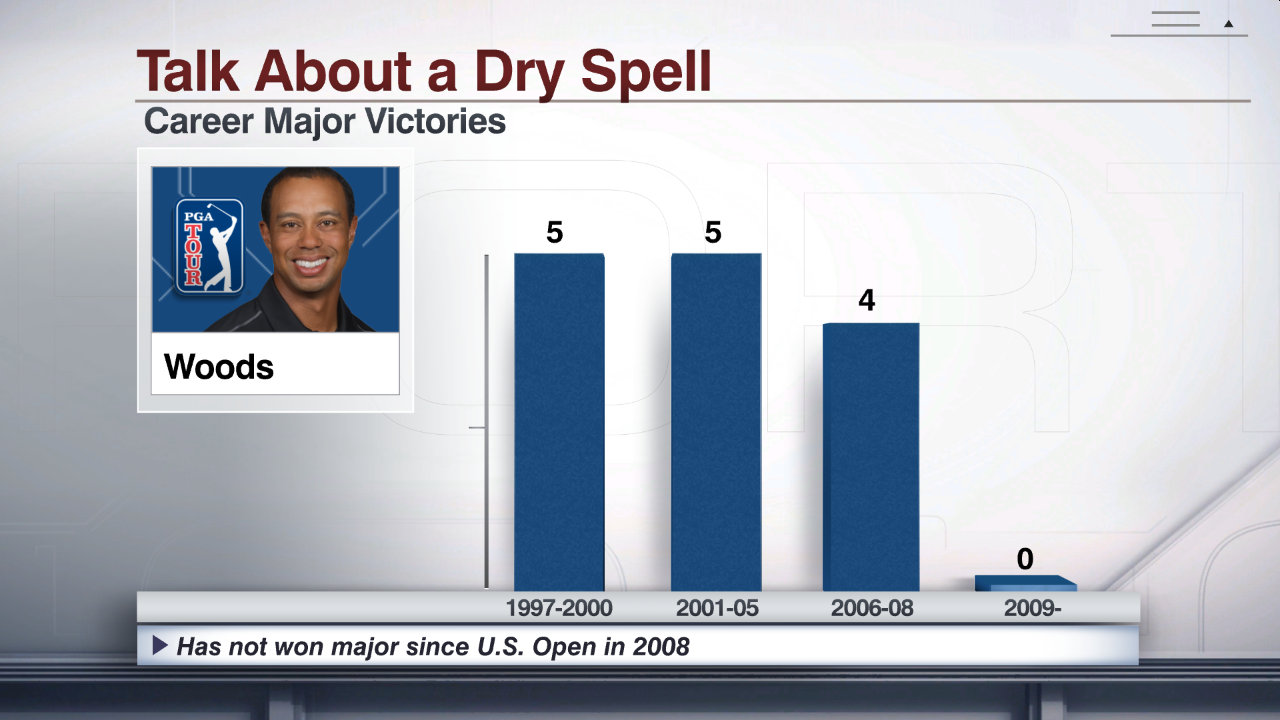 "I stuck that 6- iron in the ground on the first hole," Woods said of his first of eight bogeys, not including his triple-bogey on No. 14, of course. "And then just couldn't quite get it turned around today."
If you watched Thursday, you couldn't help but feel that Woods will never get it turned around. Until recently, I remained among a dwindling group of invested observers believing he would still find a way to catch Nicklaus. But if you're one of those people waiting for Tiger to catch the Bear, you might also be one of those people who keep waiting for the world to end. In other words, don't hold your breath.
"When's he going to come back?" Jason Day asked earlier this week. "We're just waiting for him to come back and win those tournaments like it was nothing, hunt people down like he was playing a Wednesday tournament at the country club. But will we see it? I'm not sure ... You're climbing Mount Everest and he's fallen off a couple of times and climbed back up there again."
On cue, Woods embraces the narrative of one more climb. He's gone through more swing changes than even he can count, big changes with a parade of coaches and advisers. "They're all not easy to do," he said. "I've gone through tough phases in each one of these things and I've come out OK on the other side."
The odds and the visuals say he's not going to escape this time. From 1996 through 2014, Woods played 1,241 rounds as a pro and had only one round in the 80s, his 81 in wretched conditions at the 2002 Open Championship at Muirfield.
In 15 rounds in 2015, Woods already has three scores in the 80s, and his body is in no better shape than his box score.
"Knee surgeries are pretty easy compared to a back surgery, the recovery time," Woods said. "And for some reason, it's just a lot harder dealing with a nerve than a joint."
Woods credited himself for fighting the good fight, but come on, Chambers Bay pounded him the way Larry Holmes once pounded a washed-up Muhammad Ali. Woods couldn't even hit the fairway at No. 13, the widest in U.S. Open history, and he couldn't even hit a clean fairway wood at No. 18; he topped a hard ground ball into a pot bunker instead.
On the previous hole, he'd put his hand on Oosthuizen's shoulder and laughed over a round that left him with one lousy birdie. Only the scene was sad, not funny. If this keeps up, a sportswriter's go-to cliché for every aging megastar in serious decline -- Willie Mays stumbling in the Shea Stadium grass -- will be replaced by these scenes of Woods bumbling about in the Chambers Bay sand.
Right now, mentally and physically, Tiger Woods is a broken athlete. Forget his fame and fortune and all-too-human failures of the past. If you really love sports, you don't want to see greatness reduced to this.