If there's a single match within the confines of the WWE that lends itself most directly to statistical analysis, it has to be the Royal Rumble. Looking back at 30 years of matches, while a lot of the most interesting and relevant numbers involve accumulation, like most eliminations or most time spent in the ring, there's plenty more to parse and examine as we look forward to Sunday night's showcase.
While the first-ever women's Royal Rumble match is set for Philadelphia, all of the existing data comes from the previous 30 men's matches; while there might be correlations to be drawn, any analysis will have to wait until that match takes place.
"Hacksaw" Jim Duggan won the first-ever Royal Rumble match back in 1988. That's one stat that has been and always will be cemented in the history books. But it got the ball rolling on a mountain of other interesting Royal Rumble match stats in the 29 years that followed.
Will history be made?
Last year, Randy Orton became the seventh superstar in WWE history to win his second Royal Rumble match. Orton will be competing again this year and could join Steve Austin as the only superstars to win three Royal Rumbles. He could also be the first since Austin in 1997-98 to win in back-to-back years. John Cena is also seeking his third career Royal Rumble match win, as he'll be competing in his first Royal Rumble since 2013. Cena has been among the final two remaining superstars in four of his last five Royal Rumble appearances, including wins in 2008 and 2013. He is tied with Triple H and Steve Austin for the most top-2 finishes in Royal Rumble history.
The more Royal Rumble matches you enter, the better your chances of winning would be, right? Well, truth be told, volume hasn't necessarily equaled success over the years in the Royal Rumble match. Of the five competitors who've entered the most Royal Rumbles, only Shawn Michaels (twice) and The Undertaker have eventually pulled out a victory. For Kane, who's been in far and away the most Royal Rumble matches, there are plenty of other achievements to hang his hat on, as we'll see throughout this analysis.
So you've won the Royal Rumble. What's next?
It's become an annual tradition that the winner of the Royal Rumble match earns a world title match at WrestleMania, but how often do they cash in with a victory on the biggest stage of the year? Recently, the numbers haven't looked so good, as only three of the last 10 Royal Rumble winners walked away from the "Granddaddy of Them All" with a title in hand. This balances out a stretch from 2001-07 where seven straight Royal Rumble winners went on to become world champion at WrestleMania. Could Orton's win last year be a sign that things could trend back in the other direction?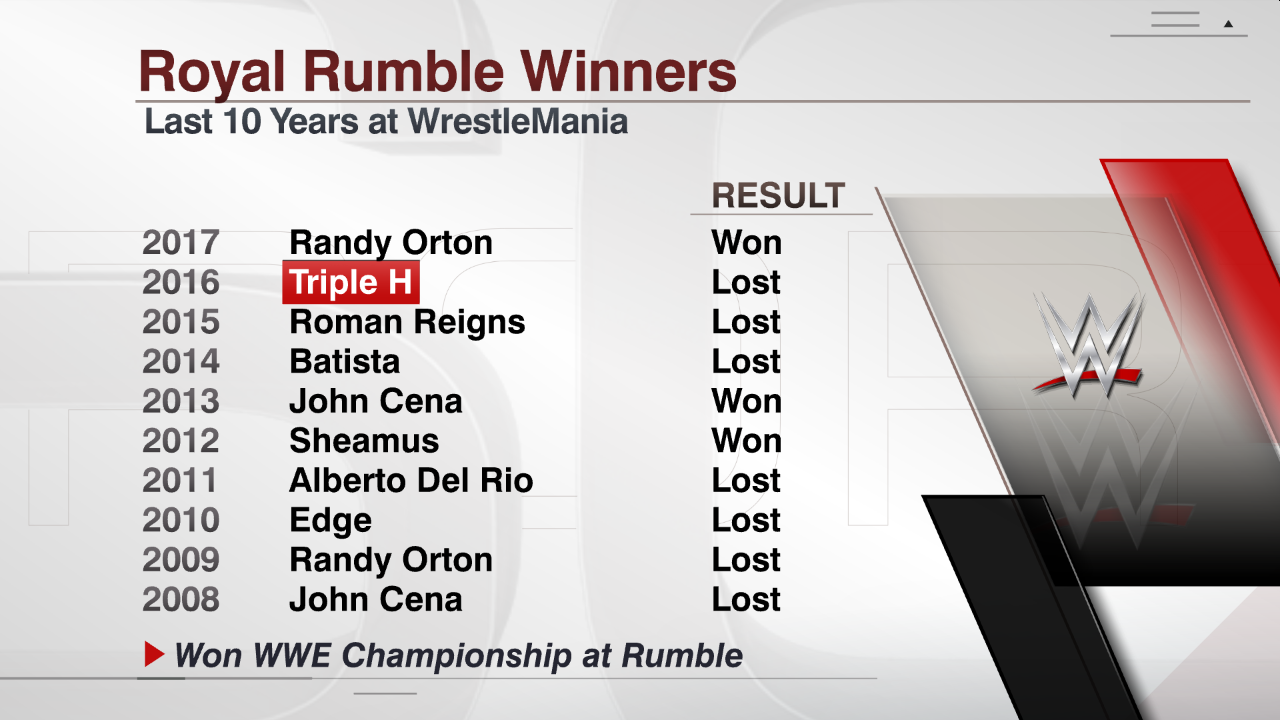 click to enlarge
A match built on dominance
After Kane held the record for most eliminations in a single Royal Rumble match for 13 years, with 11, Roman Reigns broke through in 2014 and set a new record with 12. While neither man would ultimately go on to win -- each would be the runner-up in their record-setting years -- they helped define the "most eliminations" achievement as another milestone that can be highly beneficial to whoever accomplishes it in a given year.
Thanks in large part to both his career longevity and his 2001 performance, Kane leads the all-time eliminations list with 42 across the 19 Royal Rumble matches he's appeared in. While there's an outside chance of The Undertaker (38) catching Kane with a surprise appearance this year, Reigns (26) stands as the likeliest candidate to eventually eclipse that record too.
Feats of stamina
In 2017, Chris Jericho entered the Royal Rumble at No. 2 and lasted 60 minutes, 13 seconds. That's tied for the fourth-most time spent in a single Royal Rumble and helped catapult Jericho way out ahead of the rest of the pack in terms of most total time spent in Royal Rumble matches in a career. With nearly five hours in the ring in 10 career Royal Rumble matches, his average time (about 30 minutes) across that long a stretch is equally impressive.
When it comes to a single Rumble performance, Rey Mysterio's 2006 victory after more than 62 minutes in the ring still stands as the all-time benchmark, though five men have lasted over an hour in the match (and Reigns just missed in 2016). Bob Backlund's run in 1993, which is often overshadowed by Mysterio's effort, stood as the record for 13 years.
On the opposite end of the spectrum, the shortest time spent in a single Royal Rumble stands out as one of the most infamous records held within the WWE. At 1.9 seconds, Santino Marella's 2009 effort has stood for nearly a decade -- but you can imagine that at some point, every record is made to be broken.
Does it come down to the draw?
For all of the weird stats and quirks of the Royal Rumble, one anomaly has been the most repeated stat of all -- entering at No. 27 gives you the best historical odds of walking away as the winner, with four different winners coming from that spot. Steve Austin's 2001 win broke a tie with No. 24, where three winners began, but neither spot has seen a winner since Austin's last win. No. 30 -- logically the best of all possibilities -- has reached three winners in its own right in recent years as well.
On the opposite end of the spectrum, having the winner be one of the two superstars who kicked off the match seems like a great way to build a star, and yet, only four of the eventual winners came from that position. In fact, the first 12 spots in the Royal Rumble match have not historically been a good place to start; in addition to the four men who started off the match and won, only Ric Flair (No. 3 in 1992), Steve Austin (No. 5 in 1997) and Randy Orton (No. 8 in 2009) managed to overcome the poor draw.
Beginner's luck
While it might make sense that experience could lead competitors to future success, almost one-third of Royal Rumble winners pulled it off in their very first appearance. Of the 18 competitors who've been announced for the man's Royal Rumble match, Shinsuke Nakamura, Finn Balor, Elias and Aiden English fit the bill, and at least a few others will join that list.
If there's one thing we've learned from Royal Rumbles of the past, it's that anything can happen. Whether a Rumble rookie, a surprise entrant or a grizzled veteran is the last superstar standing, the twists, turns and possibilities are plenty -- and the journey is just as fun as the destination.