Silver aiming to make WNBA more profitable
NBA commissioner Adam Silver gives several suggestions to increase profitability for the WNBA, including moving the season out of the summer.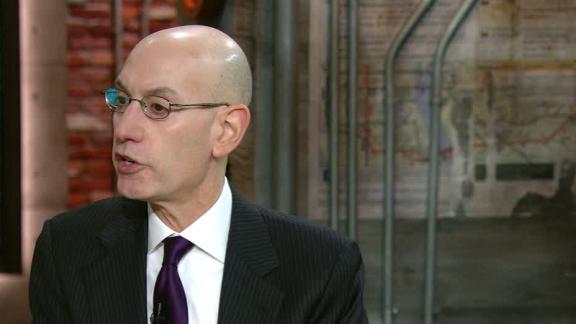 The big winners of the WNBA draft
Rebecca Lobo, LaChina Robinson and Ryan Ruocco dig deep into which teams came away with the best talent in the WNBA draft.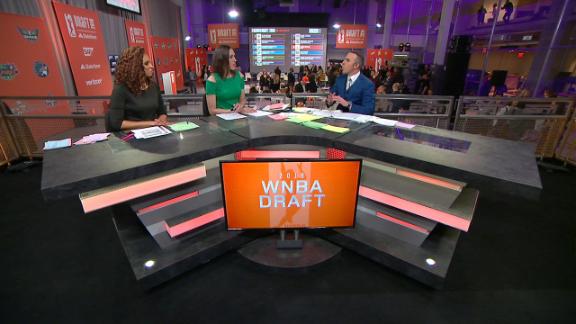 Sky select DeShields, Williams with back-to-back picks
The Chicago Sky take Diamond DeShields from Tennessee with the 3rd overall pick and follow it up by selecting Gabby Williams out of UConn with the 4th pick.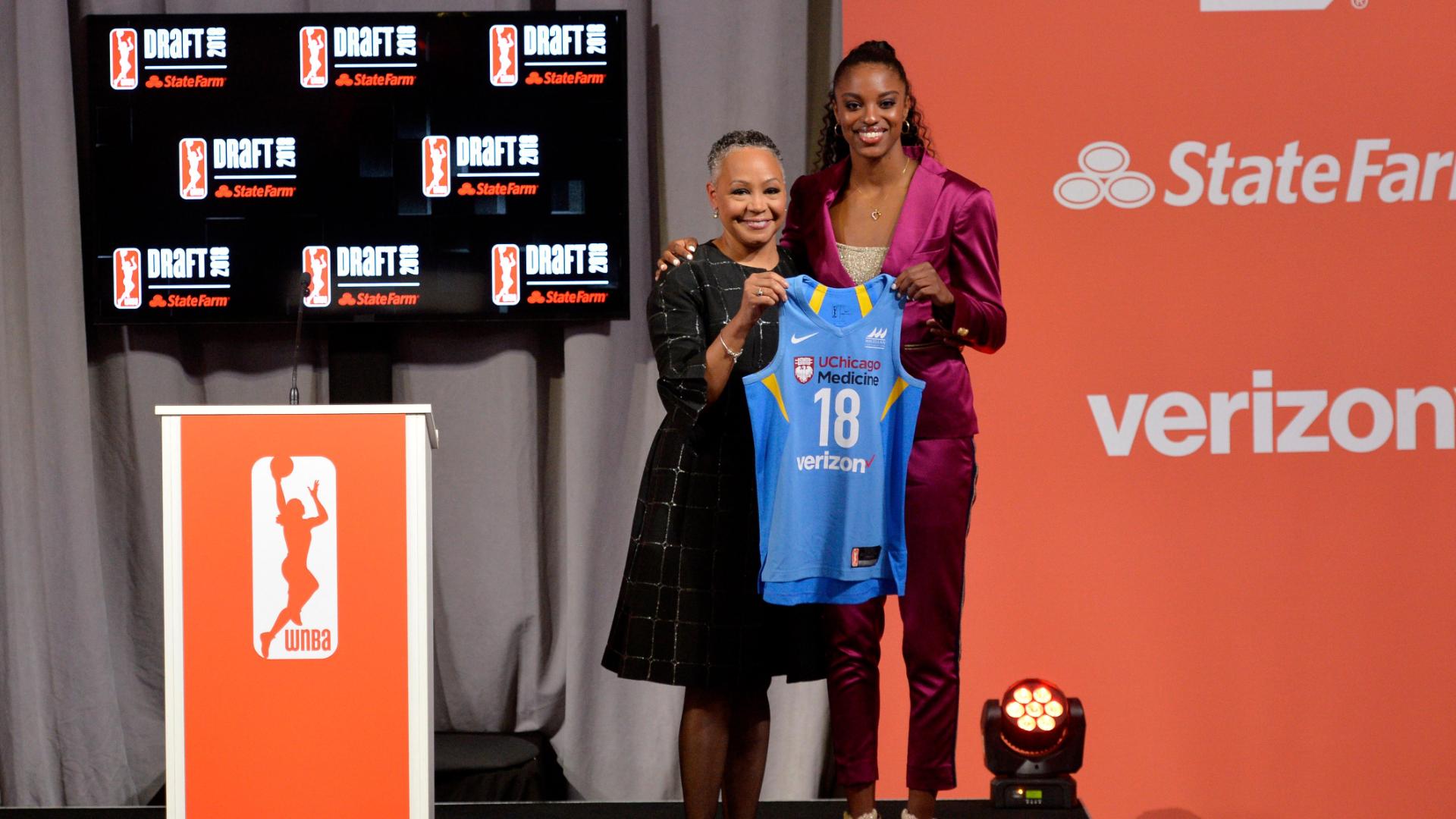 SportsCenter: Top 10 plays of NCAA women's basketball season
From the opening tip to the last shot of Notre Dame's championship run, SportsCenter recaps the 10 most amazing plays of the women's basketball season.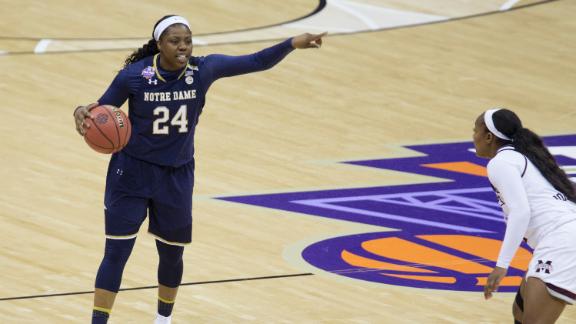 Notre Dame wins title on Ogunbowale's 3-pointer
The Fighting Irish overcome a double-digit deficit in the second half and Arike Ogunbowale nails a 3-pointer in the final second to give Notre Dame their first national championship since 2001.
McGraw calls Ogunbowale's winning shot a miracle
Notre Dame head coach Muffet McGraw says her team came out with a new belief in the second half, which led them to the comeback win in the national championship game.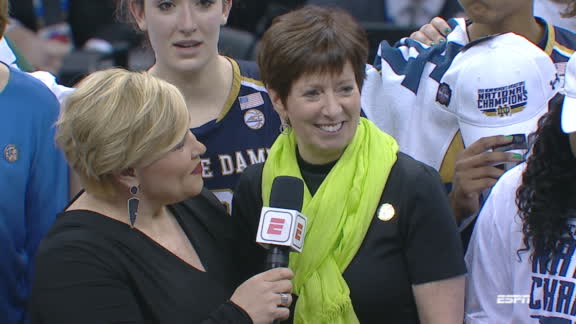 McGraw: Thrilling Final Four phenomenal for women's basketball
Notre Dame head coach Muffett McGraw said she couldn't believe it when Arike Ogunbowale's game-winning shot went in, but the excitement of the last two games are great for the game.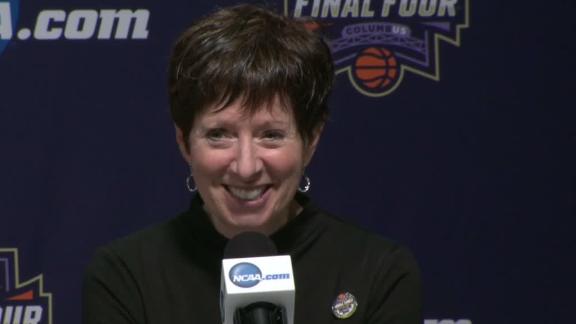 Schaefers react to heartbreaking loss in title game
While Mississippi State coach Vic Schaefer took responsibility for his team's loss to Notre Dame, his daughter, senior guard Blair, says it wasn't his fault and is proud of her dad.
McCowan comments on tough loss to Notre Dame
Junior Teaira McCowan joins SEC Network's Nell Fortner to discuss the Bulldogs' performance in the national title game.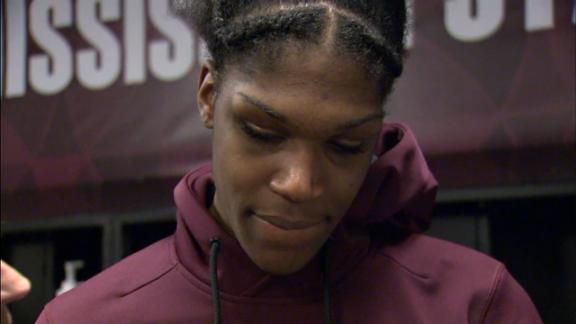 Notre Dame hoist national championship trophy
The Irish receive the women's NCAA national championship trophy 17 years to the day after their last national title.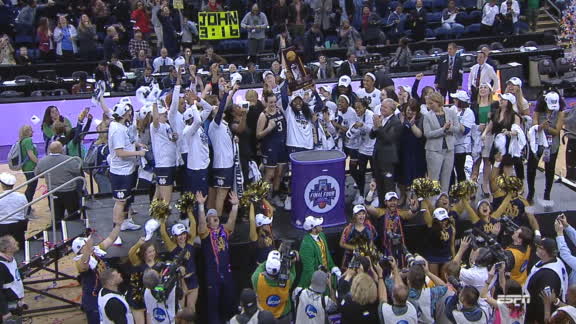 UConn stunned late once again
Notre Dame's game-winning shot over UConn in the Final Four is reminiscent of Mississippi State's stunning shot last season that not only booted the Huskies out of the tournament but also snapped their 111-game win streak.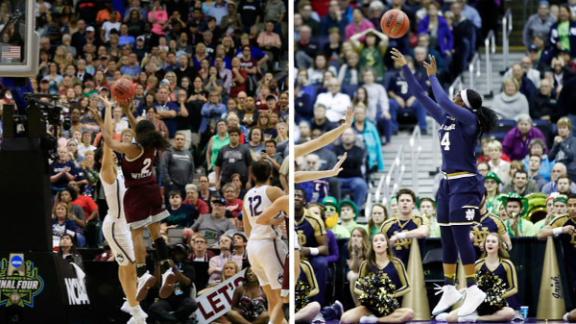 New year, same heartbreak for UConn
A day short of the anniversary for Mississippi State's Morgan William hitting an overtime buzzer-beater to top UConn in the Final Four, the Huskies found the same fate when Notre Dame's Arike Ogunbowale drills the game winner.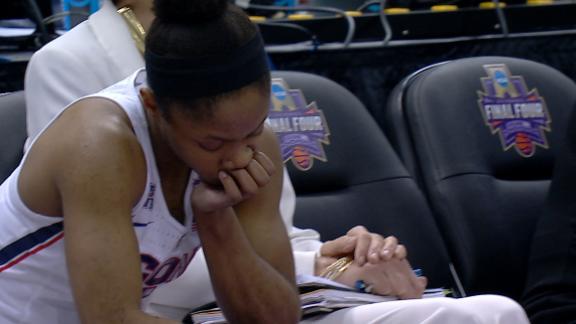 A look back at Morgan William's buzzer beater
A recap of Morgan William's last-second shot that lifted Mississippi State to a win over UConn in last year's Final Four. Video Courtesy ESPN/NCAA.
Customize ESPN
AP Photo/Keith Srakocic

Get the latest women's NCAA tournament 64-team projection from espnW's Charlie Creme.
Aaron Doster-USA TODAY Sports

The tickets have been punched. Check out which 32 teams clinched an automatic berth in the NCAA tournament.
Women's Basketball Recruiting
Phil Ellsworth | ESPN Images

Stay up-to-date with the latest recruiting news from HoopGurlz.