TORONTO -- He isn't saying much. Actually, nothing at all. Ben Azegere is sitting in a suite in the 200 level of Scotiabank Arena on Thursday night, sipping on orange juice and eating popcorn, taking it all in. Imagine if your first NHL game ever was in Toronto, as the hometown Maple Leafs are the hottest ticket in hockey. Imagine if they're hosting Sidney Crosby and the Penguins.
Actually, imagine if this is the first full NHL game you'll watch ever in your life. The fluorescent lights, the stars cycling on and off the ice, the sheer volume of the national anthem; it's a lot to take in.
The 33-year-old Azegere is the captain of the Ice Lions, Kenya's men's hockey team. Their story went viral last week, as part of a Tim Hortons campaign. The company learned that the Ice Lions are the only team in the entire country and have nobody to play but themselves. So over the summer, they were flown out to Canada and surprised with two new teammates for one epic scrimmage: Crosby and Colorado Avalanche star Nathan MacKinnon. Tim Hortons made the video into a one-minute spot; it had more than a million views within days.
Now Azegere is back in Toronto, doing a bit of a media tour. It culminates with this game and, wearing his kelly green jersey and jeans, he's absorbing it all.
He watches as the players expertly hop over the bench to switch shifts (at his home rink, there aren't even boards). His head swivels back and forth as Auston Matthews carries the puck the length of the ice (the Kenyan rink is about two thirds of the size of NHL regulation ice). He does let out one "ahh" when Penguins goaltender Matt Murray makes a blocker save. The Ice Lions don't have a goaltender, in part because they don't have any goaltending equipment "and come on, that's too dangerous," he says. Instead, they put a toy penguin in the net. To score, you have to hit the penguin above the belly.
When asked what he thinks of the game, halfway through the first period, Azegere simply says: "I'm just loving it, loving it all." But Azegere doesn't really want to talk about himself. For him, this experience is more about the message he can share. He knows his story has blown up -- though it seems like he doesn't have a total grasp of just how viral -- but to anyone who watched the video, he hopes they realize this: "Anything is possible," he says. "And every dream is valid."
---
Like many Kenyans, Azegere's first love was soccer, and then rugby. He played in Kenya's premier soccer league but knew in a country of 49 million, there were hundreds, probably thousands of talented soccer players and his dream of breaking through to the highest level was slim. He watched the 2010 Vancouver Olympics and became enamored by the ice hockey games.
Around the same time, Tim Colby, a Canadian living in Kenya, was working to establish a hockey program. There is one hockey rink in Kenya, and it sits in the Panari Hotel in Nairobi, which is adjacent to the famous Nairobi National Park, a sprawling conservatory that's home to giraffes, rhinos, lions and zebras. It's believed to be the only ice rink in East Africa. The rink is mostly used for recreational skating, but members of the Canadian embassy started coming by and donating sticks and pucks.
Azegere began coming by, too. The first time he took the ice he said it felt like "a soapy floor." But he was hooked. Soon after, the Ice Lions were formed. "I wish I had started playing 20 years ago," Azegere says. "I love the sport. One day, that will be possible for Kenyans, and people will start at a young age like they do in Canada."
Azegere estimates there are only 30 ice hockey players in his entire country, and you probably should take his word. The ice rink's management hired him on staff and he's keenly aware of everyone who stops by. The team plays on Wednesday nights and Saturdays, and usually convene on a Facebook group beforehand to make sure there's enough players to come out. There are women who play there too, and Azegere said he would love for the women's team to become full-fledged soon.
Even with help from the Canadians, equipment is hard to come by. Azegere has two pairs of skates now, and he's got a few sticks. But when a stick breaks, it's not like he can make a run to the local sporting goods store and buy a new one. A lot of the equipment is outdated; he recalls when a puck hit one of his teammates skates recently and the blade just peeled off. Azegere wears soccer shin guards, which are quite thin and only cover his shins. Some of his teammates are known to get pieces of couch cushions and tape them to themselves.
Like the rest of the world, many find the sport cost-prohibitive. Since the sport is foreign to many in Africa, they also have to battle perceptions. "People question the violence of hockey," Azegere says. "Because they only see the hitting and the fighting." He knows if enough people will just try it, they'll see the beauty in it that he does, and that those two attributes hardly define the modern game.
---
Tim Hortons found out about the Ice Lions in April via an agency they were working with. The idea to fly the Ice Lions out to Canada was a quick elevator pitch that was almost immediately greenlit.
"They just told us the story of this team," says Jana Goodbaum, Tim Hortons lead of global brand image. "We were so, so inspired by their devotion, for their passion for the game, for playing hockey despite all odds."
Tim Hortons presented the idea to Crosby and MacKinnon, who have worked with the company for years, and both said yes. "It was a really cool experience for Sid and I," MacKinnon said. "The pure excitement that they had ... especially for Sid. They said they knew who I was, but I'm not sure that they did. But it was really cool. Some of them were crying."
In the video, one player is shown stroking Crosby's face; he said he needed to feel the superstar's face to know he was real.
The game took place in August, at a rink just outside Toronto in Brampton, Ontario. The Ice Lions arrived at 8 a.m. and were fitted for new equipment and skates, which were later shipped to Kenya. Azegere said it was the first time he ever put on a full set of proper pads, which took adjusting. The skates were a little stiff, but he didn't mind. The opponents were a team of local firefighters. Tim Hortons wanted to give the team the "full Canadian experience," so they gave them a mini-tour of Toronto, which included a visit to the Hockey Hall of Fame and the Stanley Cup.
Azegere figured he'd probably never see Crosby again. And then he came to Scotiabank Arena on Thursday for a morning skate. He sat in the stands and took out his iPhone to film. He needs to show this back to the guys at home. Azegere gets most of his drills from YouTube videos. That's how he consumes most of his hockey, just by highlights and clips. Buying a package to watch live NHL games would cost about 70,000 Kenyan Shillings (or $700 U.S. dollars), Azegere figures, which is too expensive. Plus, there's a time element. He points to the dual clocks on his phone to show that it's 2 a.m. at home when this Leafs-Penguins game begins.
He's most impressed by the sheer size of the arena. "In my dreams," he says. "There will be a place like this in Kenya one day." After the skate, Azegere is brought to the lower concourse for a surprise. He walks out where Crosby is waiting for him. "You're back!" Crosby says, as the men share a hug. Crosby hands him a Penguins jersey and shares a private conversation with Azegere in the locker room. Before they say goodbye, Crosby says: "Have fun tonight, tell all the guys I said hi." Then one more piece of advice: "Don't cheer too hard -- you're in Toronto."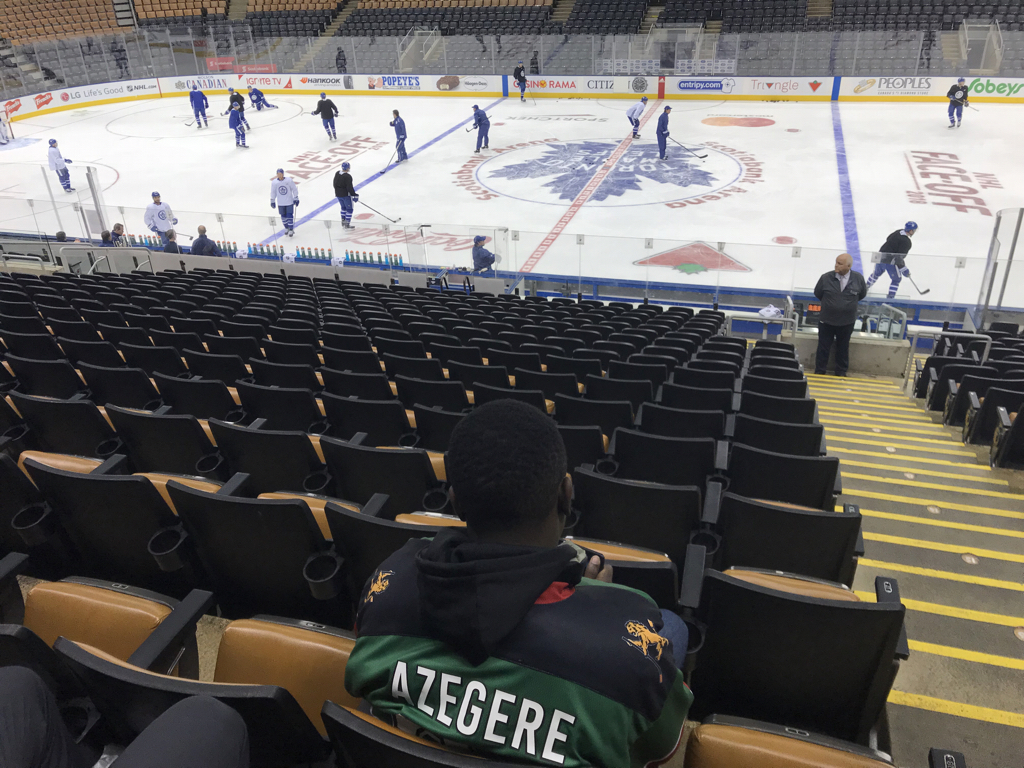 Look who is at Maple Leafs morning skate: Ben Azegere, captain of the Kenyan Ice Lions (and of viral Tim Hortons video fame). "I love the drills, the energy," he said. Back home, he learns most of his drills from YouTube, so says this is a treat.
Azegere spent the rest of his day Thursday walking around Toronto. He was wearing his jersey, so he was recognized often. "I love you guys!" one man shouts as he passes Azegere on the sidewalk. When one man asks for Azegere to take a photo with his son, he says, "That video reminded me why I fell love the game in the first place."
Azegere knows his life may be a bit different now. He's taken to the top of the CN Tower, one of Toronto's most famous landmarks, and while he takes in the scene, he's distracted by a text he got on his phone. "Look," he says, as he shows me a screenshot. "This is the biggest newspaper in our country." The headline on the article: "Kenya's Ice Lions impress NHL stars." He later receives another text, that when he returns home, the President of Kenya wants to meet him.
It's been a whirlwind trip, and Azegere is looking forward to getting back. He has a son born a month ago, and he also has a daughter under the age of 2. There's something he can't wait for: to get his daughter on skates.