It's early June in the NFL, which means it's mandatory minicamp season. Nine teams -- the New England Patriots, Cleveland Browns, Denver Broncos, Detroit Lions, Miami Dolphins, New York Giants, New York Jets, Tampa Bay Buccaneers and Washington Redskins -- are in action this week.
More coverage:
Nine things to watch this week | Progress reports on 2019 first-round picks

Here are the highlights from Thursday.
Tom Brady answers questions from reporters, and when asked about tonight's Super Bowl LIII ring ceremony, he says, "It means a lot. It's a great night to celebrate. You'll have these pictures the rest of your life." pic.twitter.com/ni784SNkCc

— Mike Reiss (@MikeReiss) June 6, 2019
Julian Edelman arrives to practice in a Bruins jersey. pic.twitter.com/0XNq8S1UtS

— Mike Reiss (@MikeReiss) June 6, 2019
---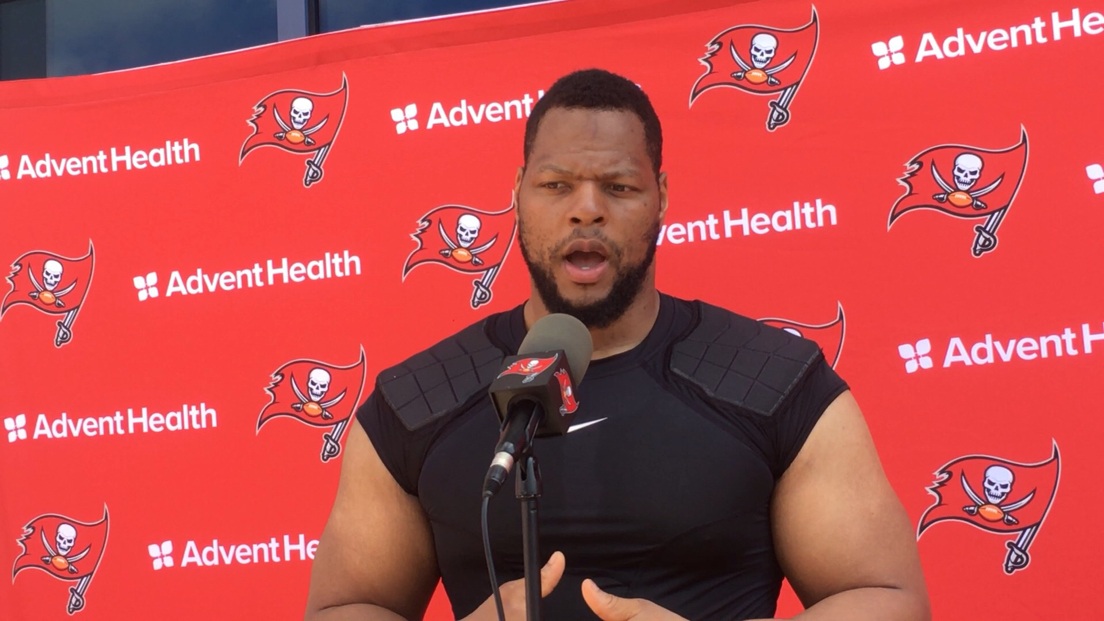 Ndamukong Suh was asked for his assessment of the culture Bruce Arians is trying to create. "I think the important thing is to forget about the past," Suh said. "It's a new regime and a new understanding that none of the past stuff matters. It's all about the future, the present. And with that, coach is big on having ownership. Yes he is the head coach, yes he has to set the tone but that doesn't mean anything if we don't buy in, in addition to making it our own. You have to have your own accountability, you have to take care of your own business and obviously police each other..."
Bucs fans who were critical of the lack of live hitting periods the last few training camps will appreciate this... pic.twitter.com/GdA1pqzDdX

— JennaLaineESPN (@JennaLaineESPN) June 6, 2019
Bucs wide receiver Mike Evans tweaked his hamstring, which is why he sat out all three days of minicamp. He was jogging off to the side with trainers, however. "No sense in aggravating it this time of year," coach Bruce Arians said. With the exception of Jason Pierre-Paul, he doesn't foresee any injuries that could keep players out from the start of training camp.
---
---
Pat Shurmur views Odell Beckham's assessment of Baker Mayfield's arm strength being greater than Eli Manning's as "less criticism of Eli ... more, 'hey, he likes who he's playing with.'"

— Jordan Raanan (@JordanRaanan) June 6, 2019
---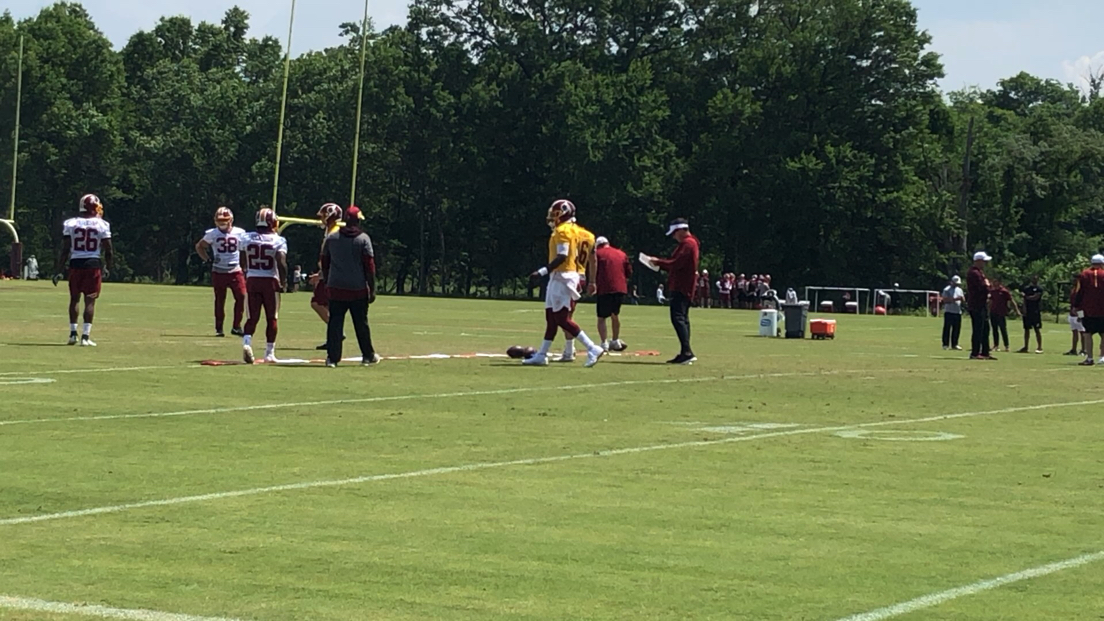 Redskins quarterback Dwayne Haskins has a little ritual he does every day with the running backs as they gather to work. It starts with a bow with Chris Thompson.
---
Darius Slay and Damon Harrison finish off the Lions minicamp week with their third no-show. Marvin Jones and Kenny Golladay continue to not do anything other than rehab work. For second straight day, Oday Aboushi and Joe Dahl were the first-team guards. Still wouldn't read into it but it's something to watch when July comes.
A note on T.J. Hockenson: Unlike the Lions' prior first round picks Frank Ragnow, Jarrad Davis and Taylor Decker, he hasn't received a ton of first-team reps. Part of that could be due to Jesse James also needing to learn the offense. There's also that Hockenson could be learning different parts with different units. But something to consider early on, although tight end is a very difficult position to learn.
---
A number of teams opted to cancel the final day of minicamp. Here's what they did instead:
The Broncos players didn't know it until team meeting a few minutes ago, but Vic Fangio has cancelled their final minicamp practice. Instead the team will have a "Field Day'' with HR derby, chipping contest and other activities. The music's already pumping here at the facility.

— Jeff Legwold (@Jeff_Legwold) June 6, 2019
Instead of practice on the final day of mandatory minicamp, the Jets spent the morning at a Topgolf center near their facility — a team-building event, as the coaches like to call it. They bussed to the site, smacked golf balls and enjoyed a lot of laughs. Le'Veon Bell, positing on his Instagram story, said he took only one swing. "One and done like Zion," he posted. The Jets close the offseason with four voluntary practices next week. Bell said he won't be there; he's planning to return to Florida.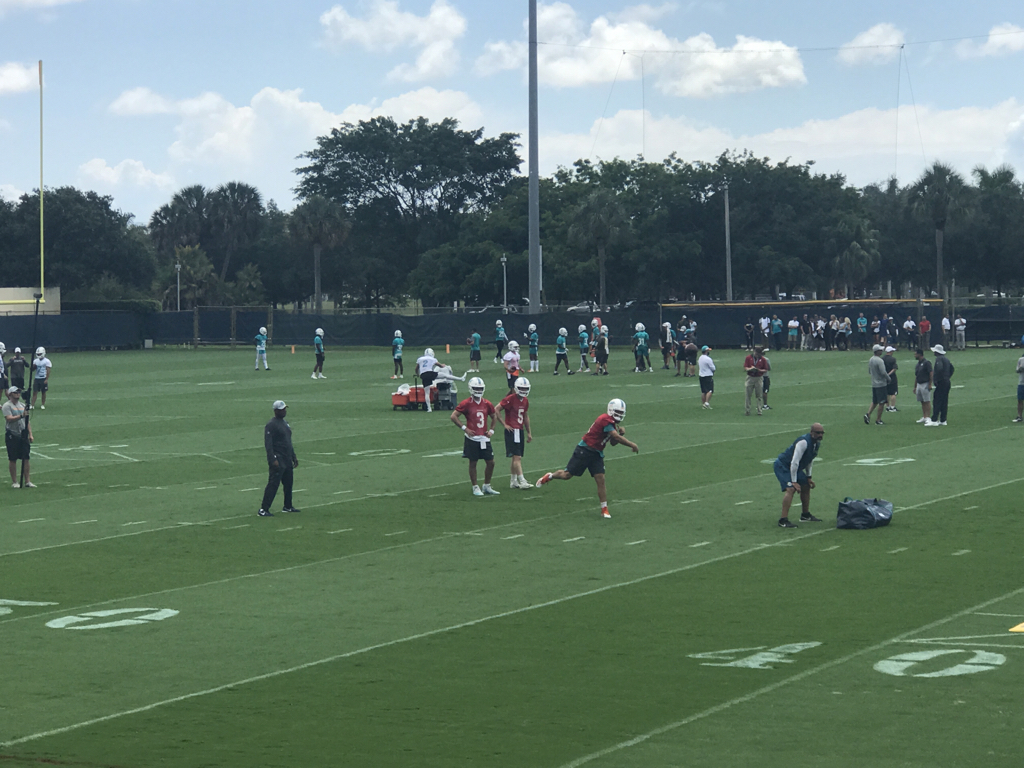 Brian Flores told his Dolphins players this morning that instead of practicing on their final day of mandatory minicamp today they will take their conditioning test and be done. A nice treat after a hard spring. Now, summer vacation!

Here's the best from Wednesday.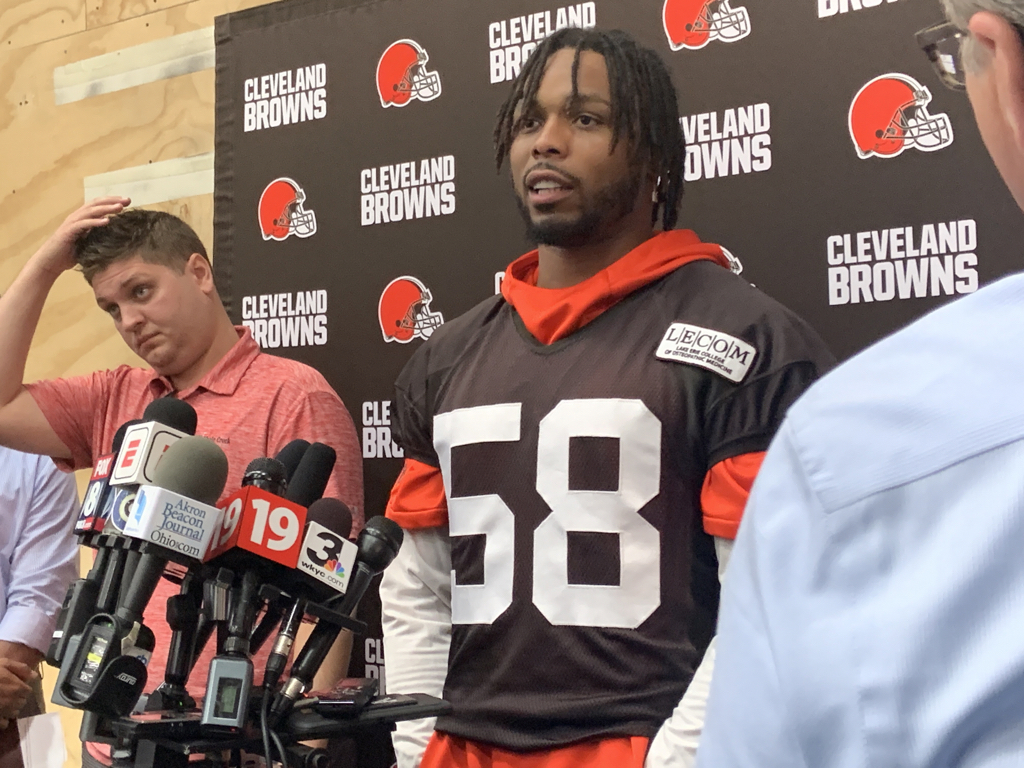 All attention this Browns minicamp has been on the offense, with WR Odell Beckham Jr. arriving to join QB Baker Mayfield. Count linebacker Christian Kirksey as somebody who doesn't mind. "We don't feel under the radar. We see how great our offense is."
---
Haskins to Peterson on a choice route: pic.twitter.com/soD4ecJTeu

— John Keim (@john_keim) June 5, 2019
Adrian Peterson on whether or not he thinks Trent Williams will report to training camp: pic.twitter.com/YQsncahX4P

— John Keim (@john_keim) June 5, 2019
---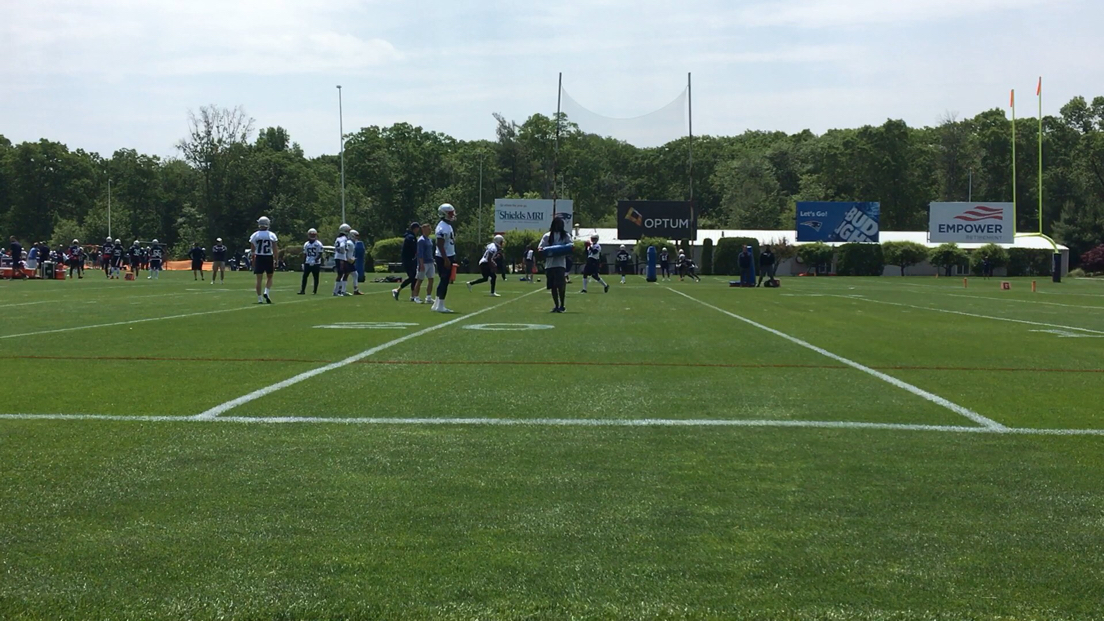 First-round pick N'Keal Harry works against Deion Branch.
---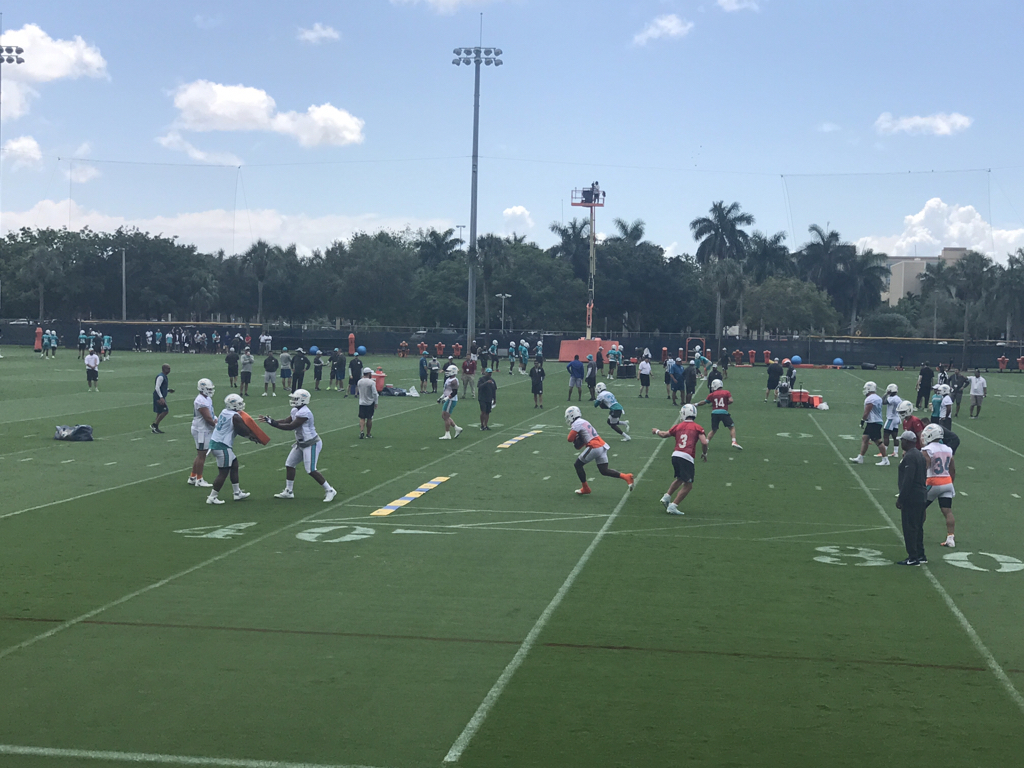 Day 2 of FitzMagic vs. Chosen Rosen during Dolphins minicamp. Minkah Fitzpatrick with a real nice INT off Josh Rosen during hurry-up offense team drills. Rosen's inconsistency is continuing early on. Ryan Fitzpatrick once again is getting the first-team reps, and performing well.
---
Don't mess with @NdamukongSuh! pic.twitter.com/Kl1WzPqSOG

— Tampa Bay Buccaneers (@Buccaneers) June 5, 2019
---
The throw.
The catch.

Manning 🎯 Ellison for 6️⃣ pic.twitter.com/VEgj01YfyV

— New York Giants (@Giants) June 5, 2019
Picture perfect. 📸@Young_Slay2 | #GiantsPride

Practice Pics → https://t.co/a76jO3AXYa pic.twitter.com/jqfIQmX63v

— New York Giants (@Giants) June 5, 2019
Noticeable again Wednesday at minicamp was the precision that rookie QB Daniel Jones has with his deep ball. Looks like a strength, not weakness. He dropped several in perfectly during practice, including one down sideline to Darius Slayton. The two rookies seem to be developing nice chemistry.
---
A few takeaways from Jets minicamp: QB Sam Darnold performed better than Tuesday, but it still was an uneven practice. He appeared frustrated during a red-zone period. Remember, he's a second-year QB learning a new offense. The offense is having "growing pains," per Adam Gase ... DC Gregg Williams emphasizes turnovers more than most. "Take the ball away," he said throughout practice ... Solid day for WR Robby Anderson, who seems more assertive on shorter routes. Contract year ... Rookie Chuma Edoga was the LT2 after working Tuesday at right tackle ... Converted CB Jeremy Clark, playing safety, intercepted a Trevor Siemian pass ... TE Chris Herndon made one nice reception, but is struggling with consistency in the new offense.
---
Got a couple of special visitors in the 🏡 for Day 2 of minicamp.

👋, Peyton & Archie! pic.twitter.com/IXttxhD3i6

— Denver Broncos (@Broncos) June 5, 2019
---
Who's not at practice?
Schefter: Harrison, Slay demanding new contracts from Lions
Adam Schefter reports that Darius Slay and Damon Harrison will be skipping the Lions' mandatory minicamp in an effort to get more money from the team.
Trent Williams, T, Redskins: He not attend the mandatory minicamp Tuesday, letting the team know he wanted to redo his contract. The NFL Network first reported Williams' desires for a new contract. Redskins coach Jay Gruden said the matter was between Williams, his agent, Redskins president Bruce Allen and senior vice president of football operations Eric Schaffer.
Darius Slay, Lions, CB: It's about the money. The two-time Pro Bowler is angling for either a redone or a new contract with two years remaining on his deal and because of it, he's stayed away for all of the team's offseason workout activities. He's in the area - and has posted about attending charitable events in town - but as far as football goes, he's trying to make a point with the leverage he has as the team's No. 1 corner and possible best defensive player.
Damon 'Snacks' Harrison, Lions, DT: Harrison was traded from the Giants to the Lions at midseason in 2018 and solidified Detroit's run defense almost immediately. He's 30 right now - and will be 32 when his contract expires after the 2020 season - so this could be one of his last chances to bring in real money during his NFL career. One of the league's top run-stoppers, he has outperformed the contract he currently has. The biggest impediments for him getting a new deal are his age and that general manager Bob Quinn has yet to re-sign a player with two years remaining on his contract. But from an on-field perspective, Harrison and Slay both have points.

Here's the best stuff from Tuesday's practices:
Tom Brady: "What's up guys, and gals." pic.twitter.com/UlMbIoj5T8

— Mike Reiss (@MikeReiss) June 4, 2019
---
🛫 @LeVeonBell 🛫 pic.twitter.com/73VVAElQRs

— New York Jets (@nyjets) June 4, 2019
Le'Veon Bell's first practice in the books: Only seven reps — four in 11-on-11, three in 7-on-7. He had three carries. Targeted once (ball off his hands). He looked rusty and tentative, just what you'd expect from someone who hadn't practiced in 17 months.
---
Not great days for Eli Manning or Daniel Jones. Both threw INTs in live drills and were inconsistent. Jones' highlight was pulling the ball and running on a zone-read. Best QB by a wide margin on Day 1 of minicamp— Alex Tanney.
We didn't see a ton from Ndamukong Suh in his first practice as a Buccaneer (understandably), but season ticket holders who were in attendance during Tuesday's first day of minicamp gave him a warm ovation. He took the field to, "Suhhhh!"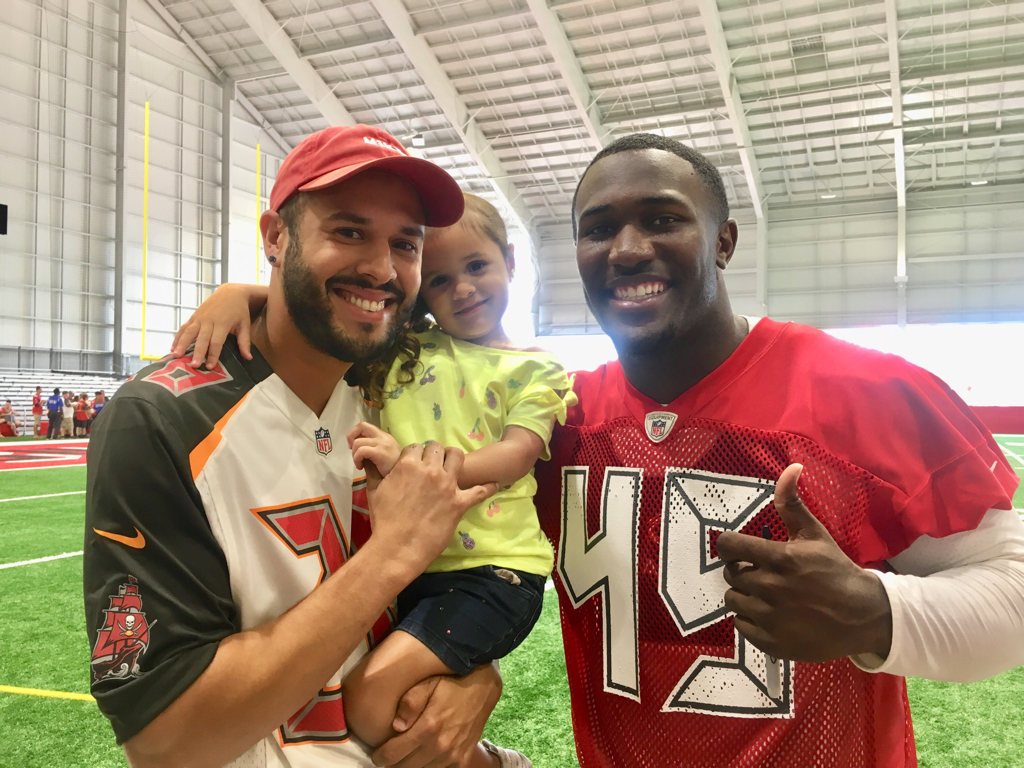 Last player off the field? Bucs rookie Devin White, who signed every autograph and posed for every photograph, including this one with fans Kedwin and Leah Garcia.
QB Baker Mayfield on where he is with growing his connection with OBJ & Gerald McCoy opting for Carolina. pic.twitter.com/5KCkx5dzn5

— ig: josinaanderson (@JosinaAnderson) June 4, 2019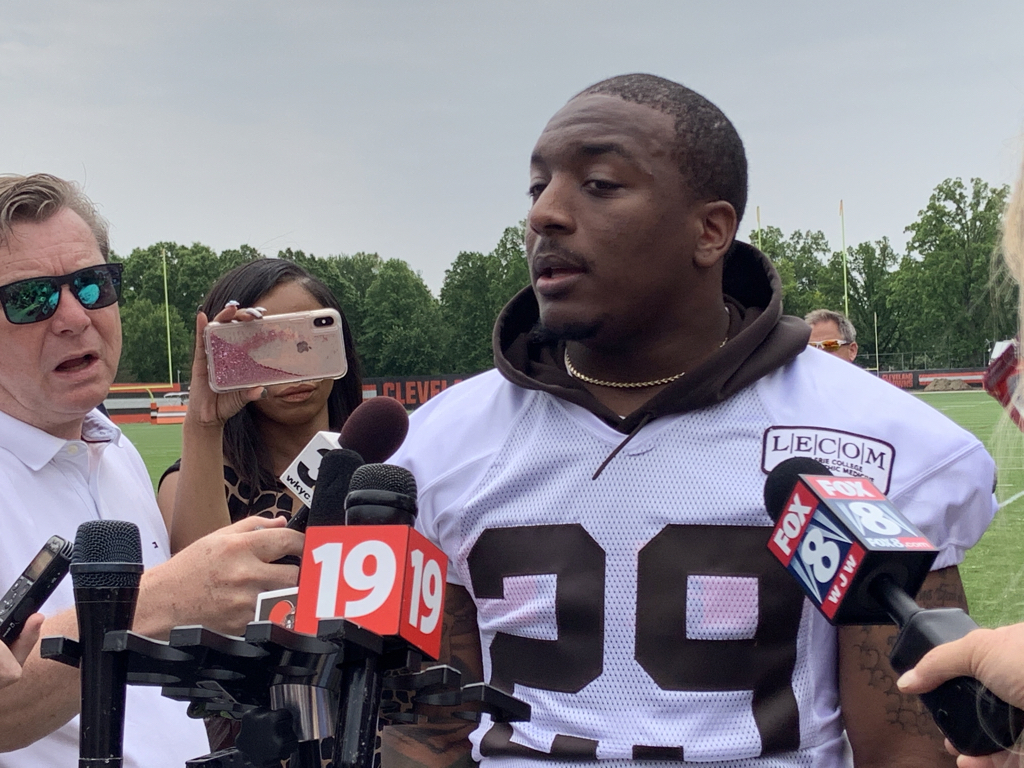 Browns RB Duke Johnson says he still wants to be traded but will be "all in" if he's still on the team in the fall.
Baker Mayfield came to the defense Tuesday of WR Odell Beckham Jr. for skipping Cleveland's organized team activities last month. "A professional is going to be a professional," he said. "He's going to train how he wants to, that's an elite athlete. That's how he does his stuff. You've got to believe and trust in that. "You've got to trust him to be able to show up when he needs to and be there for his team. I just know him and that's the type of guy he is. He's going to be here when he needs to."
Obj pic.twitter.com/sccrJkn8fp

— Jake Trotter (@Jake_Trotter) June 4, 2019
---
Ryan Fitzpatrick opened mandatory minicamp Tuesday taking first-team reps and he once again looked like the most consistent & best QB on the field. Fitzpatrick dominated in red zone drills and showed command of the offense. Josh Rosen had some highlight moments, particularly on some sideline throws, but he also had bouts with inconsistency and threw a pick-six in the red zone. The Dolphins QB battle is just heating up, and it should get more intense in training camp as pads come on and Rosen has a stronger grasp of the offense.
---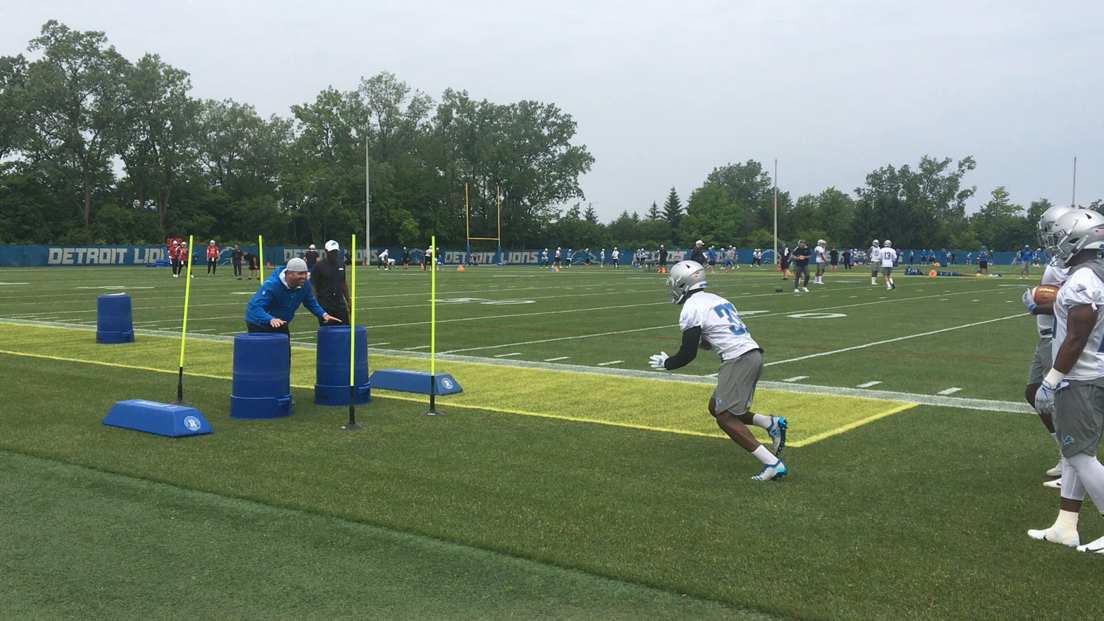 Kerryon Johnson and the rest of the Lions running backs making cuts in practice.
---
Dwayne Haskins showed off his arm – again – but he had an inconsistent day throwing the ball. Perhaps his big mistake was running the ball late in a two-minute situation when the offense had no more timeouts; the clock would have expired. Case Keenum had the best ball of the day: an approximate 60-yard strike to receiver Cam Sims, hitting him in stride in the two-minute drill. Keenum looked more in sync.
Adrian Peterson in town... pic.twitter.com/QzV1Ux2mRw

— John Keim (@john_keim) June 4, 2019
---
Broncos players have been very complimentary of quarterback Joe Flacco's work this offseason. But Tuesday linebacker Von Miller took it to the next level when asked about Flacco: "(He) looks like a Super Bowl MVP to me. He's throwing the ball -- (Tuesday) he rolled out and he had a play-action roll-out to the right and from the opposite 20 to like the opposite 15 -- he threw the ball far. Those are the type of plays we have to have ... He can throw the ball 80 yards easy ... he looks like a Super Bowl MVP.'' Flacco, however, has been far more low-key about the matter. When told some of what his teammates have said, Flacco said he thinks things are going well and then dead-panned: "I think they probably feel like they have to.''