LeBron flies in for two-handed fast-break finish
Tyson Chandler steals the inbounds pass, and LeBron James explodes to the rim on the other end, throwing down the emphatic two-handed slam.
LeBron explodes to rim for two straight transition buckets
LeBron James picks off James Harden's pass and races down the court for a finger-roll finish, then lays in another bucket on the next possession.
LeBron goes for 29 in loss to Rockets
LeBron James leads all Lakers' scorers with 29 points, but it's not enough to best James Harden and the Rockets, who take it 126-111.
Nene ejected after two technical fouls in 30 seconds
Nene Hilario gets whistled for two fouls on Kyle Kuzma, and he loses his cool after each call, earning him two technical fouls and a quick ejection.
Kuzma connects on wild 3-ball to beat shot clock
Kyle Kuzma loses the ball momentarily, but gets it back just in time to nail a deep 3-pointer before the shot clock runs out.
Capela plays give-and-go with Harden for huge dunk
Clint Capela gives it up to James Harden, and gets it right back to soar in for the vicious one-handed jam.
LeBron blows by Capela for huge slam
LeBron James blasts past Clint Capela, getting into the lane and elevating for a rim-rattling one-handed jam.
Harden lobs to Capela for alley-oop slam
James Harden drives the lane and throws it toward the rim for Clint Capela, who finishes with a strong two-handed jam.
Harden flops, Kuzma flushes
James Harden tries to sell the contact from Kyle Kuzma, but the referees don't call it, and Kuzma ends up with an easy two-handed jam.
Thursday Scores
What makes Harden and Doncic similar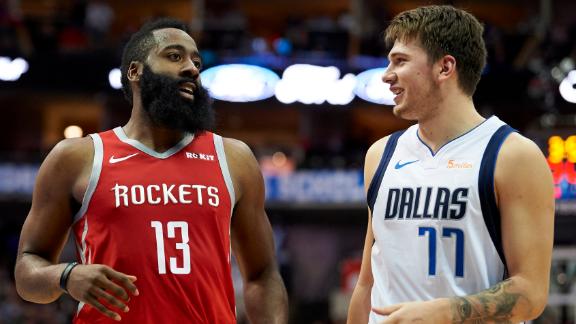 Leonard-less Raptors dominate Warriors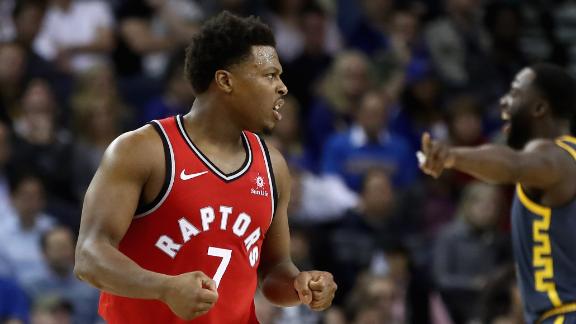 Customize ESPN

Sign up for FREE!
Brian Rothmuller/Icon Sportswire

Gregg Popovich says there's no beauty in basketball anymore. Melo's fall helps make his case.
Joe Murphy/NBAE via Getty Images

The man who replaced Melo in Houston is leaning on his other legendary point guard.
Kelley L. Cox/USA TODAY Sports

We polled the ESPN Forecast panel of experts for their votes on what's next for KD.
ESPN Fan Shop
Powered By