MELBOURNE, Australia -- International captain Ernie Els believes he has finally discovered a way to help unite his team ahead of the 2019 Presidents Cup in Australia, and it's got nothing to do with the golf course.
During his trip Down Under to scout Royal Melbourne, the four-time major winner unveiled a new team emblem and is confident that such a badge could be exactly what is needed to help the playing group bond.
The team dynamic of the Presidents Cup competition is quite unusual with Team USA going head-to-head against a host of non-European internationals. Unlike the Ryder Cup where the Europeans are representing Europe, the International players represent no single country or continent.
But Els, who next year will take part in his ninth Presidents Cup, says his new international emblem is one that can galvanise the group and have them working towards the same objective.
"I felt that we had such an international flavor in our team and I wanted the guys to identify with something," Els told media during a visit to Melbourne's iconic Brighton Beach. "So we came up with a nice logo and a personalised emblem for our team.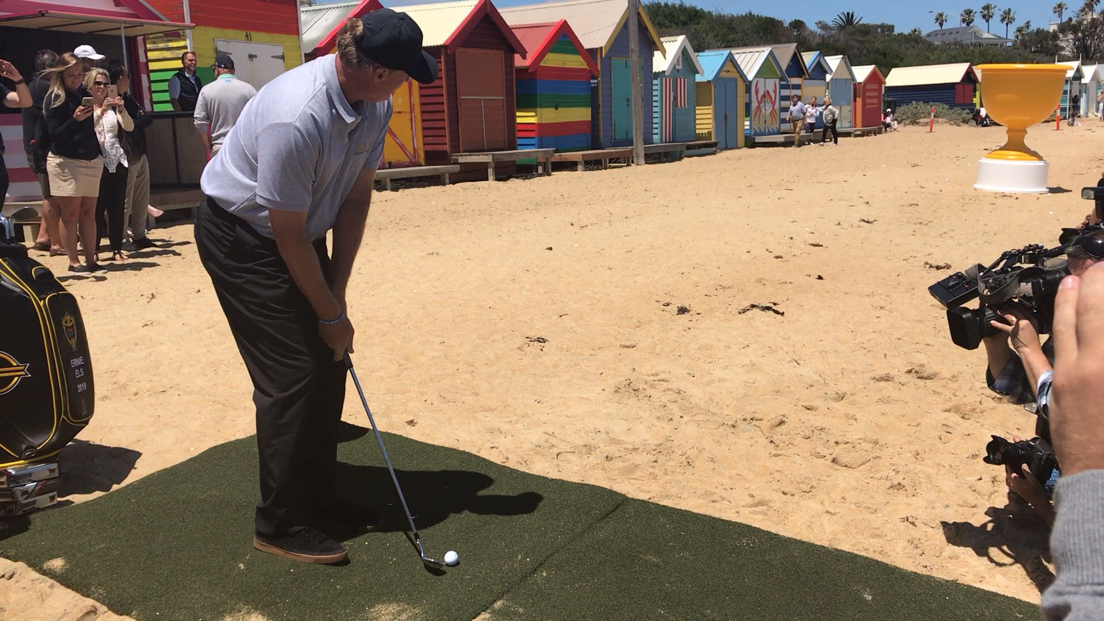 After missing a few chips into a large Presidents Cup, Ernie Els takes a leaf out of the Happy Gilmore playbook!
"Being from across the globe, we don't all play for the same flag. When you get into the thick of things you want to play for each other and you want to pull together as a team. I feel with this emblem the guys can pull together with that and feel united."
When the teams tee off at Royal Melbourne in 12 months' time, the Internationals will be hoping to snap a 21-year winless drought in the Presidents Cup. Team USA has dominated the competition since it began in 1994, winning 10 of the 12 events. The only victory for the internationals came in 1998, the first time Royal Melbourne hosted the event, while their only other notable result was a tie in 2003.
Els, 49, said it has been far too long since his side tasted success and although they face an uphill battle against some of the world's elite, it's time the tables were turned.
"We haven't won it for 20 years, so we need to get going," Els joked. "We're playing the U.S. side which is an unbelievable side. I'm even a fan of some of the players on that team but we've got to set that aside a little bit, win the Cup and then like them again after that.
"We're going to have a young team so the more support we can get from the Australian public the better the guys are going to be.
"I love Melbourne. I've been coming here for many years, it's good to be back and I'm looking forward to next year."
Team USA captain and 14-time major winner Tiger Woods is scheduled to be in Melbourne next week to also cast his eyes over the Royal Melbourne Golf Club.